Image via Wikipedia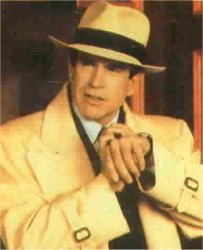 Warren Beatty has been given the go-ahead to proceed with a lawsuit he filed in May in a battle over the film rights to Dick Tracy. Beatty, who starred in and directed the 1990 movie, plans to make a sequel to the comic book detective film, and has launched a legal battle with stage one being won on Wednesday,


Beatty is seeking $30 million in damages and a court ruling that he controls film and other rights. According to the complaint, Beatty obtained film, television and other rights in Dick Tracy from Tribune in a 1985 agreement. Beatty claims that the studio made it "commercially impossible" for him to produce a sequel. The first Dick Tracy film was the ninth highest grossing for 1990, raking in $100 million that year.


If its just b'cos you have no money left, then fair play Warren, but otherwise why do it? Please recast and make a decent franchise, with Sin City overtones, and remeber the rule never ever put Affleck in a comic to film.
Beatty's new Pacemaker was playing up in court.